The Momentum Way of Managed IT
MOMENTUM HAS BEEN A LEADING PROVIDER OF IT SERVICES TO SMBs SINCE 2010.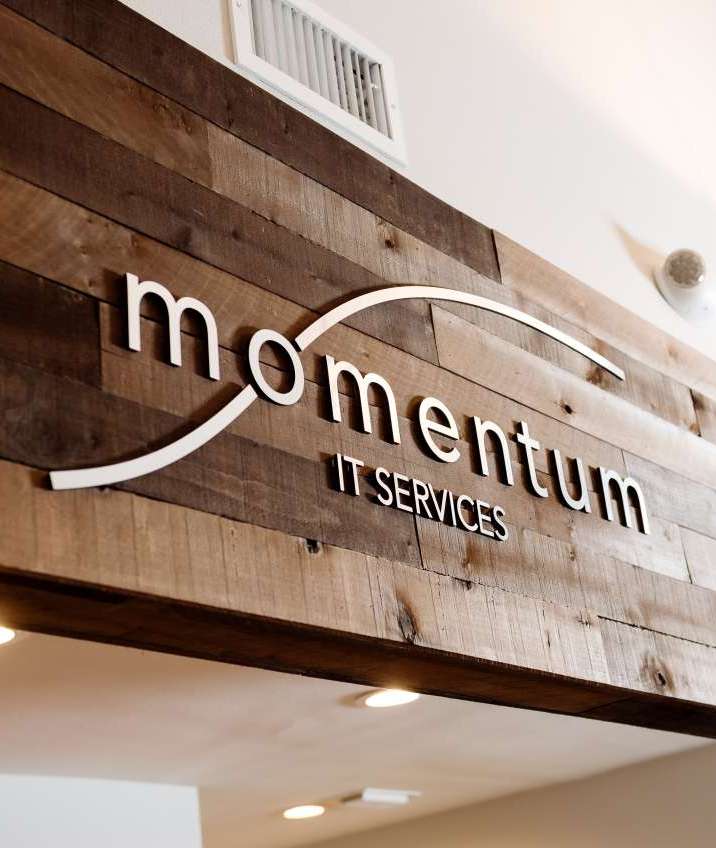 In the past, IT service was delivered like many other services, call when something breaks and wait for someone to come out. These days, technology has become such an important part of business, that you just can't afford to wait. You need to prevent it from breaking at all or have it corrected quickly if it does. There's just too much at stake. More importantly are all of the cyber security threats that exist and must be guarded against. Proactively monitoring, maintaining, and securing your systems has become a necessity in today's information age. Our customers recognize that and see the value of our proactive services found in our monthly managed service plan.
All customers benefit from the following standard services as part of their monthly managed service plan:
Managed Servers & Desktops
This service provides full monitoring and maintenance of your servers and desktop operating systems. A management agent is installed on each computer which reports back to us. We monitor the alerts daily and take action as needed. We also ensure all servers and desktops are configured to meet industry best practices to maximize security.
We support all of your applications so you don't have to. When a problem arises, we'll resolve it ourselves or call the application's support team and work with them to get it resolved. We know how to "speak the language" with other vendors and can assist them with diagnosing the issue or getting the issue escalated if results aren't coming fast enough. We also maintain our own knowledge base so if it's something we've seen before, we correct it right away. What about keeping your applications updated to the latest versions? We cover that also.
Our managed firewall service provides monitoring and maintenance of your firewall. We monitor the up or down status of your internet connection and the firewall itself. In the event of an outage, we'll contact the Internet Service Provider (ISP) on your behalf and coordinate troubleshooting efforts remotely or onsite as needed. Our firewalls use a combination of IPS (Intrusion Prevention System) to guard against known attacks and IDS (Intrusion Detection System) to detect suspicious activity. 
Protecting Your Data Like It's Our Own
Your Data Is Your Most Valuable Asset
Reliably backing up your data is priority number one. Backup images of your data can be captured as frequently as hourly by our best-in-class backup software. The backup images are monitored, maintained, and test restored by our staff. They're stored onsite at your office and offsite at ours. The images can be used to restore individual files and folders or an entire computer. In the event of a major failure requiring new hardware, those same images can be restored to the new hardware with the push of a button.
Infrastructure Management
This service provides monitoring and maintenance of the customer-owned switches, wireless access points, storage devices, or any other network-connected device. We monitor the up or down status of the device. In the event of an outage, we will troubleshoot the issue remotely or onsite as needed. We configure these devices to meet industry best practices to maximize security.
Using the agent from our managed server and workstation services, the System Monitoring service provides proactive monitoring of the operating system with notification of problems or changes. Examples are:
Alert on Windows Event Log errors
Alert on disk space when running low
Alert on sudden disk space changes
Alert on physical disk health
Alert on failed login attempts
Alert on critical Windows/Mac services
Alert on system online/offline status
Alert on CPU Utilization
Alert on Memory Utilization
Critical alerts notify us 24/7 and non-critical alerts are reviewed daily.
Virus and Malware Protection
In a world full of phishing emails and ransomware attacks, we are committed to keeping your business secure. Whether the threat is external or internal, we configure your networks from top to bottom with security in mind. This service includes our best-in-class endpoint detection and response software for all servers and workstations.
Our patch management service uses the agent from our managed server and workstation services to address the complexities of software and security patch management. Unpatched systems leave the door open for security breaches. Our agent scans your servers and workstations daily checking for installed and missing critical updates, security updates, and vulnerabilities. We schedule our patch deployments after hours to work around your schedule and needs. Workstations are generally patched and rebooted weekly, while servers are patched and rebooted monthly.
With our help desk support, you get friendly, local service, onsite or remotely. Calls to our office are answered live and you can speak with a technician right away with no wait. If you choose to email us, our average response time is 11 minutes. That means a help desk team member will be actively working on your request within 11 minutes. We pride ourselves on training and developing the best technicians, who get results fast. Each customer is assigned to a support team and each support team is led by a senior-level technician. The team gets to know you, your employees, and your business at a deep level. Help is also available from other teams in case of an emergency, a big project, or when specialized knowledge is needed. Team members meet daily and team leaders meet weekly to discuss issues and leverage knowledge from our entire customer base so you get the added benefit of working with not just one, but a group of experienced professionals.
Vendor Assistance can be a valuable service for office managers. We know how to "speak the language" and offer assistance when it comes to working with other technology vendors. We can help answer questions, make decisions, approve network changes, or troubleshoot issues. Common examples of other vendors are copiers, phones, Internet providers, alarm systems, surveillance systems, climate control systems, audio/visual, etc.
We meet with you regularly for project planning, budgeting, and overall direction setting. We idea-storm with you. We look for ways to improve your business through the use of new technologies that can improve efficiency, increase productivity or reduce costs. We produce Executive Summary Reports showing your support statistics at a glance. We benchmark your business against industry best practices and make recommendations for improvement.